The Game-Changer for Your Ad Creative Workflow.
---
Transform your ad workflow and take your campaigns to the next level Say goodbye to manual Ad design and hello to the power of AI technology.
---
A.I. Can assist you or Replace you. The choice is yours
So at MianStream Ent. we manage both Meta and Google Ads for our clients and our own campaigns, mostly our own lol. But we have discovered that testing and optimizing ad creatives are the best ways to improve performance.
Let's be real, constantly testing ad designs can be a real hassle using, the old-fashioned method (designers, design tools, review, repeat, test, repeat…you get the idea).
We're a small agency, and managing the ad design workflow requires a lot of time and money, making it difficult for smaller agencies, such as ours, to manage. It was a real challenge for us.
I'm not the first to use Artificial Intelligence. But Glad I'm not the last person.
AdCreative.ai is a game-changer for the creative process. We stumbled upon it and let me tell you, it's made a big impact on our workflow. With its built-in AI, even non-designers can now take control of the creative process.
The best part? You can easily customize your brand with the perfect font and color choices, all thanks to AI recommendations. Trust us, we've been using it non-stop and it's a lifesaver. Plus, the interface is super user-friendly and the results are always spot-on.
And don't worry if you're a first-time user, there's a helpful tutorial guide to get you started quickly. If you follow the suggested creatives, you'll see a noticeable boost in your CTRs and conversions. ( Speaking from my experience)
Who should use It?
Perfect for Freelancers, Digital Marketing Agencies, Small and Medium-sized Enterprises, Content Creators,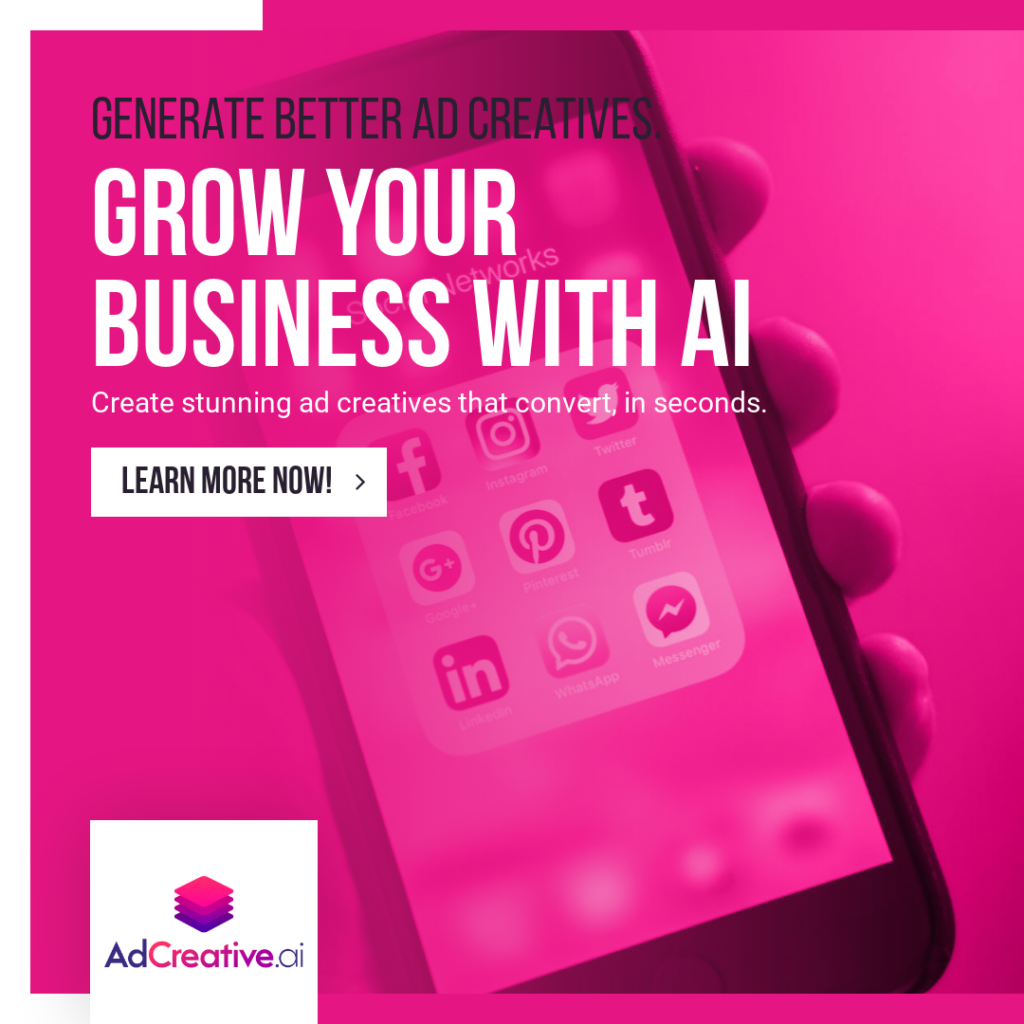 PROS:
Create a lot of targeted ad creatives quickly
Create different ad formats for the same campaign
Save lots of time and money in the ad creative workflow
Fully edit individual ad creatives manually after batch creation
Add your own images if you need to tailor your messaging and imagery to a certain niche
Access lots of free stock images
Modern-looking ads created
A.I text header creation – make sure to provide lots of detail for the best results.
CONS:
For those who are on a budget or just starting out, some of the smaller packages might not offer enough credits. And while there are options for more credits, the price might be too steep for smaller companies or individuals. On top of that, the software could definitely use some improvements in the user experience. We've experienced some slowdowns when loading templates and customizing them, which can be frustrating.
Sometimes brand color final output does not mix up in the design too well.
The platform does not provide more freedom to custom change ad format sizes.
Needs to offer a wider range of banner sizes, including smaller vertical options.
The multi-image generator does not allow us to use more than one image in each ad campaign generated.
---
ROI Benefits:
I have been able to include ad creative generation in my overall campaign management workflow.
Using Adcreative.ai I save at least 10 hours of my time per campaign during the setup and management phases.
This has allowed me to take on more customers and increase my revenue.
Additionally, I am able to expand my ads into new ad platforms with minimal overhead.
---
Closing Thoughts:
All in all, I think AdCreative.ai is a fantastic solution if you're running multiple campaigns or have a high budget. It cranks out hundreds of ROI-focused ad designs, making it super easy to set up winning campaigns across all social media platforms with just a few clicks. AdCreative.ai is now a major part of our marketing campaigns, helping to deliver fresh content to the content-hungry internet, I truly believe. Artificial intelligence is here to stay, if you're not using it, chances are someone else is using A.I. "Artificial Intelengice" against you.
---
---
WordPress White Screen Fix Quick and Easy Way to Fix It 2022 in this video I'll show you how to get your WordPress website working again no coding.

---

Blackmagic design Studio Camera 4k plus unboxing 2022

---

The Game-Changer for Your Ad Creative. Workflow With just a few clicks, set up winning campaigns across all social media platforms and stay ahead of the competition.

---
---
WordPress White Screen Fix Quick and Easy Way to Fix It 2022 in this video I'll show you how to get your WordPress website working again no coding.

---

Blackmagic design Studio Camera 4k plus unboxing 2022

---

The Game-Changer for Your Ad Creative. Workflow With just a few clicks, set up winning campaigns across all social media platforms and stay ahead of the competition.

---