The Journey From Chat Automation Novice To Crafting Engaging Dialogues Next Level Easy With Landbot.io's Visual Programming
---
NEED TO SKIP
---
User Interface and Experience
Stepping into the Landbot.io realm, the simplicity struck a chord. The user interface is a charm, making me glide through effortlessly. Piecing together my first chatbot felt like a breeze, with the visual builder adding a dash of fun to the process.
The available templates were my shortcuts to a quick launch. It's a no-fuss platform, simplifying the designing, implementing, and managing of new conversational AI chatbots. This seamless experience is next level for limited technical coding background folks like me.

Functionality and Features
With a spectacle of features. The robust chatbot creator was my canvas for crafting engaging AI Conversations. Its adaptability is stellar, letting my chatbot mirror my brand's persona. The extras like integration with other web plugins and social platforms. The analytics dashboard, put Landbot.io a notch above the rest.
I mean it was a plus learning I was able to analyze customer interaction. Gaining these insights at every step of the conversational journey was a cakewalk to learn also do. I find it a solid starting base for those seeking, to amplify their customer engagement through interactive AI chatbots.

Integration Capabilities
Backend chat Builder has smooth integrations. It cozied up with my CRM and email marketing tools like long-lost friends. For instance, meshing Landbot with Salesforce was a game-changer in lead capture straight from the chat. Also, the camaraderie with Mailchimp / Sendgrid simplified following up with customers post-chat. These alliances not only fine-tuned my workflow but also crafted a unified realm for customer engagement.
Ok now even though none of my chats have reached this bonus part yet, it is great knowing it will connect live chats to me through text or email, to take over chats if needed or asked to. Saving heaps of time sending qualified leads while ensuring, no customer inquiry gets ghosted.

Pricing and Plans
Landbot.io has multiple pricing tiers, catering to different appetites. Kickstarting at $30.00 for 500 chats monthly, it's a win for current business ventures. As I grow my chatter, scaling up to the PRO plan at $80.00 for 2,500 chats will be a no-brainer soon. The value for money shines through every tier, each boasting a robust set of features. The pricing isn't just reasonable, it's an investment in amplifying digital communication, making it a cost-friendly choice. More info Here & Your Free Trial

Customer Support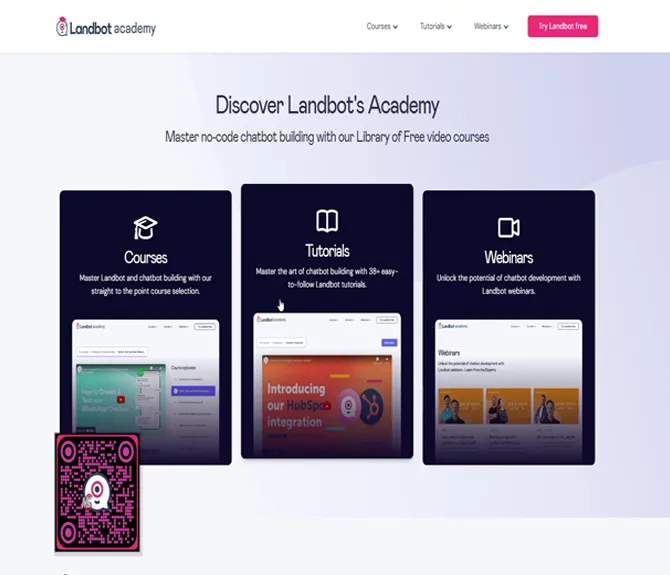 The knights in shining armor at Landbot.io are ever-ready to tackle hurdles. Whenever a hiccup surfaced, the cavalry was prompt and adept. Besides, the treasure trove of a knowledge base and the community forums are a goldmine for self-help, where solutions and insights abound. These resources didn't just solve my puzzles but enriched my understanding of the platform, making my voyage with Landbot.io a pleasant one.

Comparative Analysis
Stumbling upon Landbot.io was like finding a hidden gem in a vast sea of chatbot platforms. Curiosity led me to price compare, and what I found was a pleasant surprise. Unlike the steep monthly tag of $2,500.00 with Drift or the free offering by Tidio offered barely anything pretty much just offering more chats monthly.
Landbots.io free plan stood out and almost gave you everything Free then held back on chats 100 monthly. Next tear held a modest starting point of $30.00 for 500 chats monthly. It's a balanced blend of cost and functionality, offering advanced features and customization that others lacked. It felt like I had unknowingly hit the jackpot in the chatbot arena, finding a platform that was a sweet spot between affordability and quality.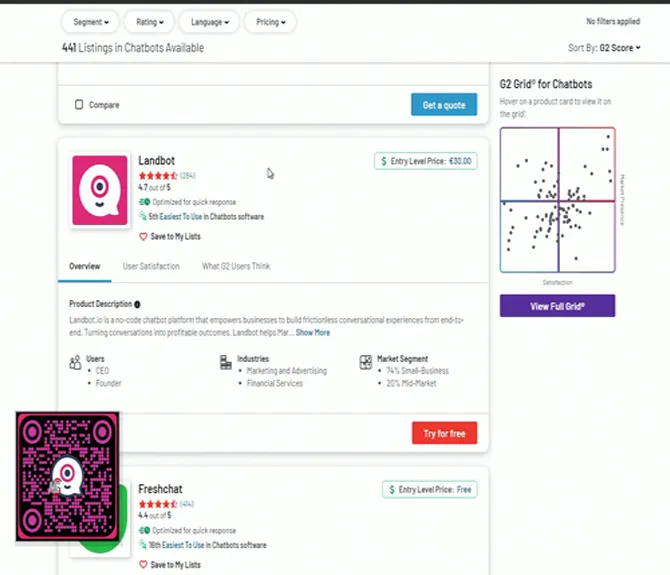 FINAL VERDICT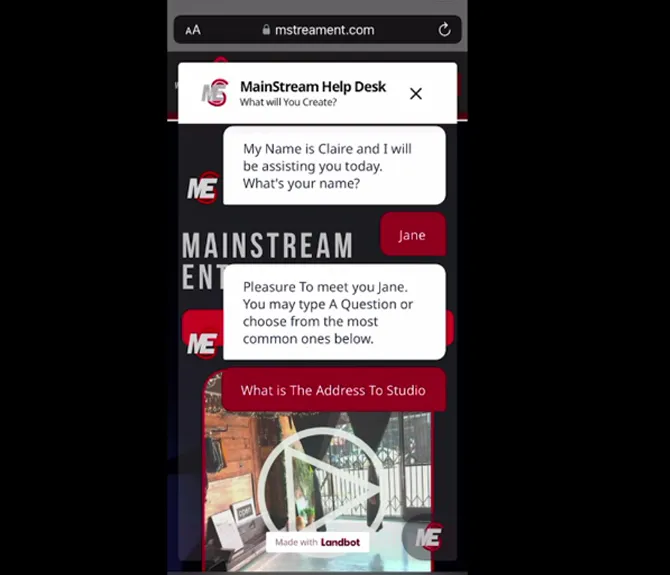 A happy accident. I wasn't looking for it but knew I needed it. offered The straightforward interface no-code drag & drop flow chart, affordable plans, and easy integrations were just what I needed. The support team and the community forums at the academy their whenever I needed a hand. Landbot.io is more than a chatbot builder; it's a simple way to connect with customers.
I may have just found out about them and only built one bot as of writing this blog. But as a part of the no-code gang, I feel I'm well on my way to master bot builder. LOL, I might be stretching it there. In all, I'd say thumbs up, give Landbot.io a shot. It's a neat little tool that simplifies the process while making your digital chats a whole lot easier and fun.
Hey! Lastly leave a comment I'd love to hear about how your first bot-building experience went.
---
Frequently Asked Questions
: What is the starting price of Landbot.io?
The starting price is $30.00 for 500 chats per month​.
: Are there educational resources available?
: Yes, Landbot.io offers Academy courses to help users understand the platform better.
: Is there customer support available?
Yes, there's a responsive customer support team along with a community forum and an extensive knowledge base.
: Can Landbot.io integrate with other platforms?
Yes, it offers seamless integrations with platforms like Salesforce and Mailchimp.
: Is Landbot.io suitable for non-technical users?
Absolutely, its intuitive interface and visual builder make it suitable for individuals with limited technical background.
---
Quick Summary
Landbot.io is a cost-effective, user-friendly chatbot builder with seamless integrations, solid customer support, and educational resources. It stands out for me with its ease of use and scalability, making it a wise choice for various business sizes. Competitor options I included were Drift, with a higher starting price but robust features, and Tidio which offers a free tier, and Capacity. Competitor More Info CLICK
---
---
WordPress White Screen Fix Quick and Easy Way to Fix It 2022 in this video I'll show you how to get your WordPress website working again no coding.

---

Blackmagic design Studio Camera 4k plus unboxing 2022

---

The Game-Changer for Your Ad Creative. Workflow With just a few clicks, set up winning campaigns across all social media platforms and stay ahead of the competition.

---